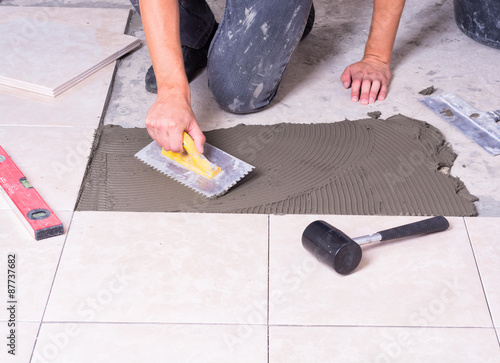 Craig Thorne Tiling on Facebook
Flooring is the most important element in any house. There can be various options for flooring available but the most popular and reliable one these days are that is tiles. With the increase in demand for tiles, now various designs and patterns have also been introduced in this section of flooring. If you are somewhere in Australia, getting suggestions for flooring from Sunshine Coast tiler can be a great way to introduce some good tile flooring at your home. 
Though there are various places available where you can approach to get great ideas and suggestions about tiles, but still it is always a better option to know about how to estimate tiles installation in your home.
Choosing the right kind of tiles
There are different types of tile installation available today for your home flooring.  Some of the tiles that you may prefer for your home flooring are travertine, ceramic, porcelain, faux wood, slate, marble, granite, stones and many others. Different tiles have their own different features. So, depending upon these features and the way how these tiles look, you can select the type of tiles that you need for your home flooring. If you are very confused about the type of tiles to select, then the experts of sunshine coast tiler can always help in taking the correct decision. 
Measurement of the area
It is simply pointless to get tiles on an average amount. It may happen that the number of tiles has reduced and then you are not able to get the same kind of tiles again in the market. So, it is always advised to have a proper measurement of the room where you wish to install the tiles, or the entire house of you wish to get the whole house flooring done with tiles. 
Getting extra amount
When you let the dealer know about the measurement of your home, the dealer lets you know the amount of tiles that you may need for your flooring. But after this, make sure that you take at least 15% extra amount that what the dealer has quoted. This is important because, in the method of installing the tiles, it may, of course, happen that a few of them may break down or may get destroyed in some other way. It is always better to have a backup while getting the job done. 
Estimating the amount
Different tiles can of different sizes and also of different prices. Hence, if you have a fixed budget, then it is important to be very calculative and to choose the right type of tile depending upon the calculations that you have made. It is also a great idea to visit different places to know the exact price and quality of a particular tile design if you are satisfied.
The flooring of the home is an important task and hence it is important to provide proper attention to it. Tiles can be different types and also at various prices. It is always suggested to do a proper estimation so that there is no shortage during the installation process and also so that the amount matches your budget.